PlayActive 10ft Trampoline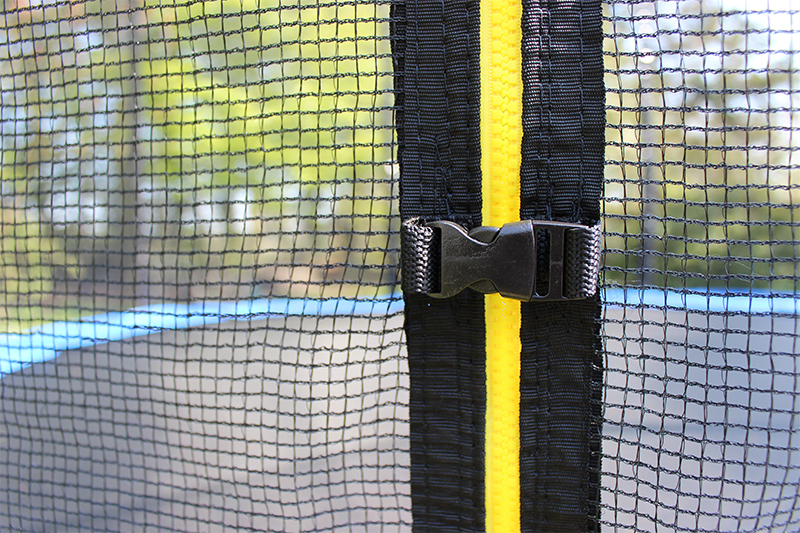 safety enclosure net with zipper
The PlayActive safety enclosure net is made from high quality materials and features secure fastenings to protect children from exiting the trampoline unsafely.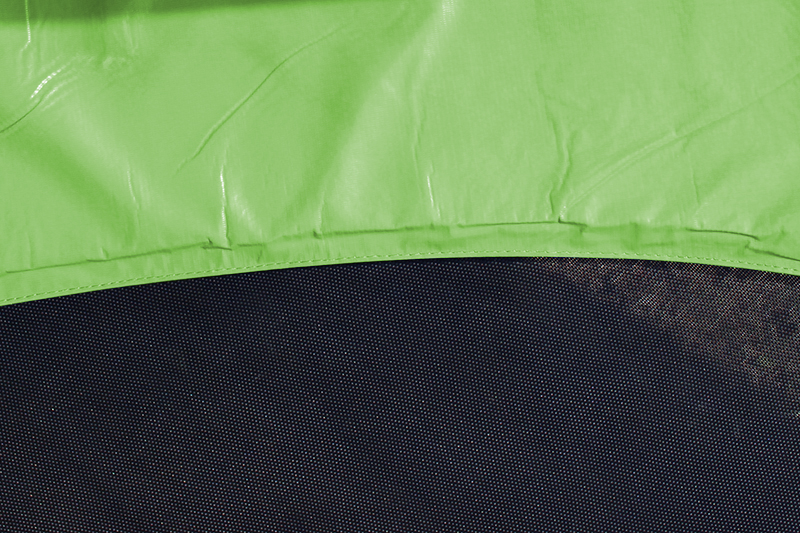 spring cover (non-absorbent foam)
The PlayActive spring cover is made using close-cell foam that doesn't absorb water, mildew or lose shape which makes it extra durable!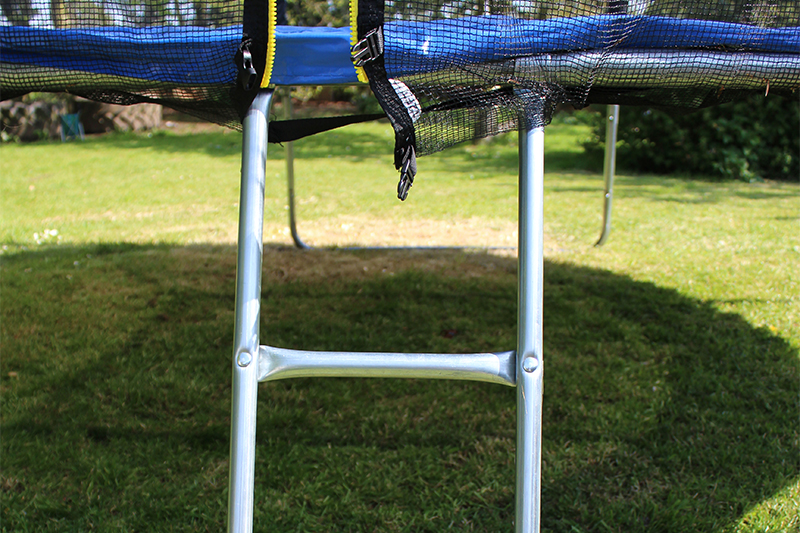 ladder attachment
The PlayActive ladder attachment provides a safe and easy way for children to climb on and off the trampoline. Simply hook the ladder over the top rail and you're good to go!
features
Galvanised Frame
Galvanised Springs
UV Resistant
Closed Cell Foam (Non-Absorbent)
FREE Safety Enclosure
FREE Weather Proof Cover
FREE Ladder
Spring Cover: PVC, PE, 14mm Foam
Frame Diameter: 305cm
Frame Height: 76cm
Frame Tube Size: 38 x 1.3mm
Springs: 60pcs
U Shape Legs: 3pcs
Safety Enclosure Height: 180cm (6 Pole)
Max Load: 150kg
Box 1 Carton Size: 162L x 50W x 16H (cm)
Box 2 Carton Size: 110L x 36W x 16H (cm)
Box 1 G.W./N.W.: 29.5/26.5kgs
Box 2 G.W./N.W.: 18.5/16.5kgs
Warranty: 12 Months
Certificate: Intertek, EN-71, CE Approved
dimensions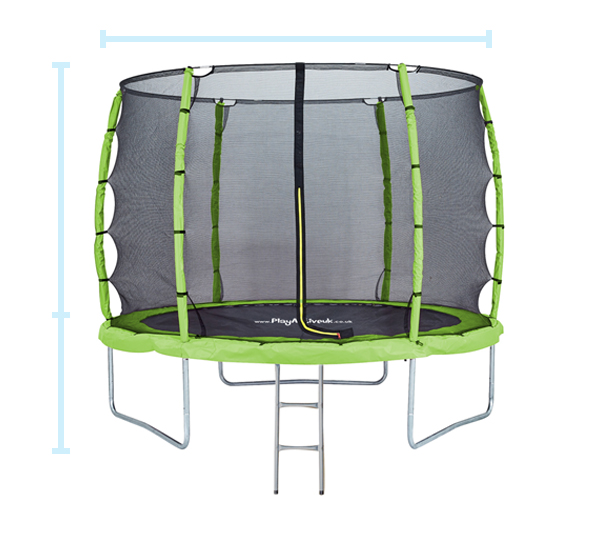 Frame Diameter:

305cm

Frame Height:

76cm

Safety Enclosure Height:

180cm (6 Pole)
in the box
1 x Steel Tube Frame
1 x Safety Enclosure
1 x Spring Cover
1 x Jump Mat
1 x Ladder
1 x Weather Proof Cover
1 x Fixtures + Fittings Pack
60 x Springs
Instruction Manual
Durable Materials
Each trampoline is designed using high qaulity durable materials to prevent damage caused by adverse weather conditions.
Galvanised Frame
The trampoline structure consists of a thick, fully galvanised steel frame with a rust resistant finish for long lasting use.
Closed-cell Foam
The trampoline spring cover is made from shock absorbent, high density closed-foam that will not absorb water, mildew, or lose shape.
FREE Extras
The PlayActive trampoline package includes FREE extras such as a ladder attachment, weather proof cover, and shoe bag.
Health & Fitness
It should be recognised that using a trampoline is one of the most effective forms of exercise. Proved to be three times more beneficial than running trampolines are a great way to increase your muscle strength and fitness.
We are a UK based importer who supply high quality items at wholesale prices. With over 20000+ positive feedbacks we are committed to providing an excellent customer service.
uk postcode map
free postage
(Standard Mon-Fri delivery)
surcharge £19.99
(Please not these areas will incur a £19.99 charge for delivery)
no delivery to these areas
(We do not deliver off shore)
IMPORTANT - Please see top of listing for estimated delivery date as not all items are immediate despatch.
Although over 95% of our deliveries arrive on time on the date agreed, some deliveries can be delayed for reasons beyond our control.
In these rare instances that the delivery is late the courier will attempt to deliver the following day.
If you require any help tracking your item, please contact our customer service team.
If your postcode is located in the following areas then please choose the applicable surcharge for £19.99 on checkout:

ab30-ab38, ab40-ab56, dd8-dd9, fk17-fk21, iv1-iv28, iv30-iv40, iv52-iv54, iv63, kw1-kw14, pa21-pa40, ph4-ph41, ph49-ph50, td all postcodes

postcodes stated in the surcharge area are in the range (from and to). example, iv1-iv40 would be all postcodes between 1 and 40.
1.1 If you receive an item that is damaged this must be reported to us within 48 hours of receipt, failure to report within this time we cannot accept liability. If you decide to return the item to us any postage costs will be your responsibility.

1.2 You have the right to cancel your order, for free returns simply return the item to us in its original condition within 14 days of receipt. The cost of returning the item to us is your responsibility, after this time any item will be liable to a 10% restocking fee minimum £20.

1.3 If a Product is reported faulty and returned to us but tested as fully functional on return you will not be entitled to a full refund.

1.4 Any item that falls into the points above (1.1 1.3) will be liable to a 10% restocking fee minimum £20.

1.5 Any item that is not damaged but rejected on delivery (if ordered by mistake for example) will be liable to a return cost back to us of £20.

1.6 Any item that has been attempted delivery by the courier but you was not available and you have not contacted the courier to arrange another day will be sent back to us and there will be a re-delivery fee of £10-20 depending on the size of the item.